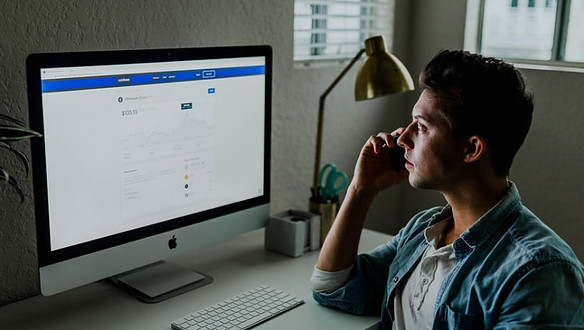 Start your online business now!
---
Maybe you have thought about starting an online business before.  But it was not the right time.  Well, maybe now is the time to start one.  With so many people working from home right now, this could be the time to start your online business.
What does it take to start an online business?
Starting your online business doesn't have to be expensive at all.  You basically need three things:
A computer or notebook
An internet connection
Time to learn and work your business
Do you have those 3 things?  A lot of people have a computer and internet access but no time because of regular jobs.  But this is a good time, while the world is quarantined, that you can see #3 on that list as well.
Why not spend the days you can't go to work, getting started on your personal online business?
What online business am I talking about?
I'm talking about creating your personal online affiliate blog site and promoting the products of major big businesses.  Yes, I'm talking about becoming a blogger and recommending products to your site visitors.  This is called "Affiliate Marketing".
For several years now, I've been a member of the Wealthy Affiliate Online Training Platform.  I've been learning from experts and networking with a huge community of experts.  The training is web-based using videos and text with hands on lessons that walk me through each  step of the learning process.  During these years I've created several affiliate blog sites and even have created websites for clients who pay me to create and host these sites.
I've learned so much about using WordPress (the top software used around the world to create blog sites), that I can now sell my services in creating WordPress websites and blog sites.
I've learned about how to select a "niche" or subject to base my blog site on and how to create content for that blog site.  I've learned how to use SEO (Search Engine Optimization) techniques to help my blog posts rank higher in the google search engine.
Then I've learned to find affiliate networks and programs to join so I can select products to promote on my blog sites.  When a site visitor reads my posts and clicks on one of my recommended products and makes a purchase – I get a small commission.  Those commissions can definitely add up.
Wealthy Affiliate Membership
I started out by signing up for the FREE starter membership at Wealthy Affiliate (WA) and once I learned more about WA, its awesome training and community, I upgraded to Premium membership  Premium is a paid membership for $49/month.  But during the months and years as a Premium member I've found out how to take advantage of specials for paying annually and now I pay only $25/month and receive enormous benefits from my paid membership.
I know many, many WA members who have reached their financial goals and stick around as members just to help others reach success. The community is unlike any I have ever been involved with – so unselfish and willing to help new members.
You can read my detailed review  of Wealthy Affiliate HERE.
And if you are interested, you can sign up for the FREE starter membership  by clicking below.
Its free to check out and if you decide to upgrade to Premium Membership, I will be your special mentor and help you get started.
Your FREE starter membership gives you access to 10 starter lessons, see below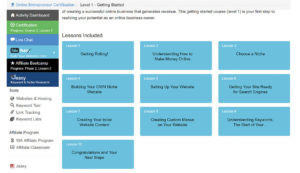 Caution
This is not a get rich quick deal, and it does require work and persistence on your part. But many new members start to earn commissions within 6 to 8 months, depending on how hard they work at learning and implementing the lessons.
The lessons walk you through step by step of the learning process and if you get stuck, you can ask for help within the community or from me as your mentor.
So decide whether this is the right time now for you to start your online business.
Comments
I enjoy getting questions and comments from my site visitors, you can leave yours below -Shirley
NOTE:  This post contains affiliate links, which if clicked and a product purchases, I receive a small commission.