Why did I Choose GetResponse as my autoresponder?
Part of my Affiliate Marketing training is how to create and use an email list to keep in contact with customers and visitors to my websites.  There are many email marketing and autoresponders available to an affiliate marketer.
Autoresponders – definition from Wikipedia:
An autoresponder is a computer program that automatically answers e-mail sent to it.  Autoresponders can be very simple or quite complex. Autoresponders are often used as e-mail marketing tools to immediately provide information to their prospective customers and then follow up with them at preset time intervals.
I have tried several myself (Mailerlite, MailChimp, Aweber and finally GetResponse). But I needed to choose the best autoresponder for me.  I started with MailChimp and then I found out it is not friendly for affiliate marketing and make money online websites – so I decided to not use it for my affiliate blog sites.  However, I do use it for some of my art clients websites for its free version.
Then I tried Aweber which is nice and used by a lot of affiliate marketers.  There is no FREE version and the cheapest monthly price is $29/month.
I then tried out GetResponse and I found it to be a very full-featured software program that was within my budget.  And it is very nice to have the ability to create landing pages and offer webinars through this program. The $15/month plan for up to $1,000 subscribes was within my budget.  So I decided to use GetResponse for my affiliate websites.  I use it for optin forms for my email lists, and more recently for landing page and email sequencing.
What is GetResponse?
To begin with, I want to explain just what "GetResponse" is.
GetResponse was created in 1998, and now over 350,000 individuals and businesses use the platform for their email marketing.  GetResponse started out as an email marketing and list building program but is now considered to be an "all-in-one" marketing solution.  It provides the following functions for your online business:
Use it to create your email list, and your own unique and engaging forms and sales funnels (using pre-made templates)

Use it to create a newsletter to send to your email list subscribers

Use it to create marketing automation via "autoresponder" emails and sequences

Use it to study statistics for opens, click-throughs, etc. for your different email campaigns
It is also very nice that GetResponse offers hundreds of ready-to-use email templates and has a landing page creator with templates too.
Feature List
Below is an image of GetResponses' Feature List (you can see how full-featured it is)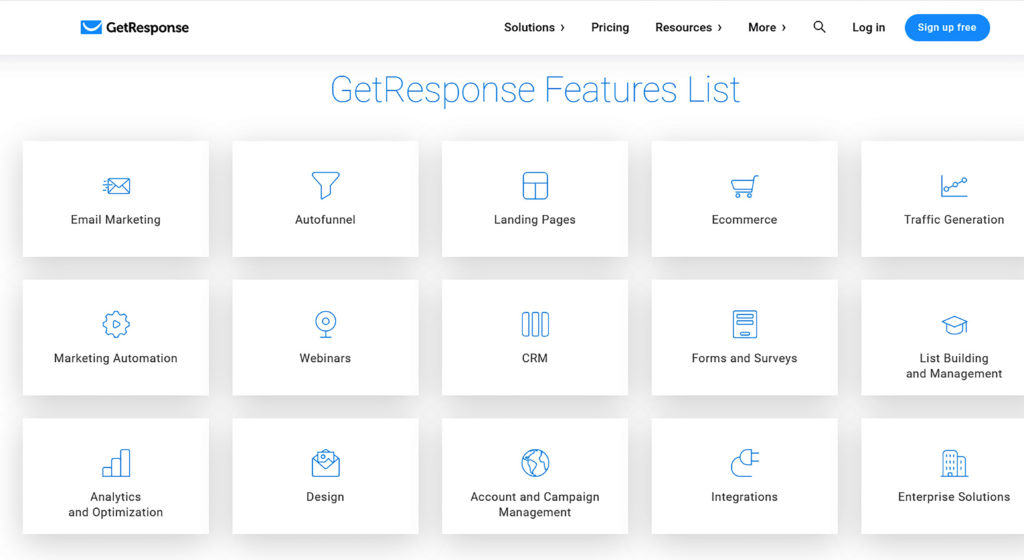 Costs
There are 4 pricing plans offered by GetResponse as well as a 30-day FREE trial:
Basic — starting at $15 per month to send an unlimited number of emails to up to 1,000 subscribers
Plus — starting at $49 per month for up to 1,000 subscribers
Professional — starting at $99 per month for up to 1,000 subscribers
Enterprise — starting at $1,199 per month for lists exceeding 100,000
See the chart below: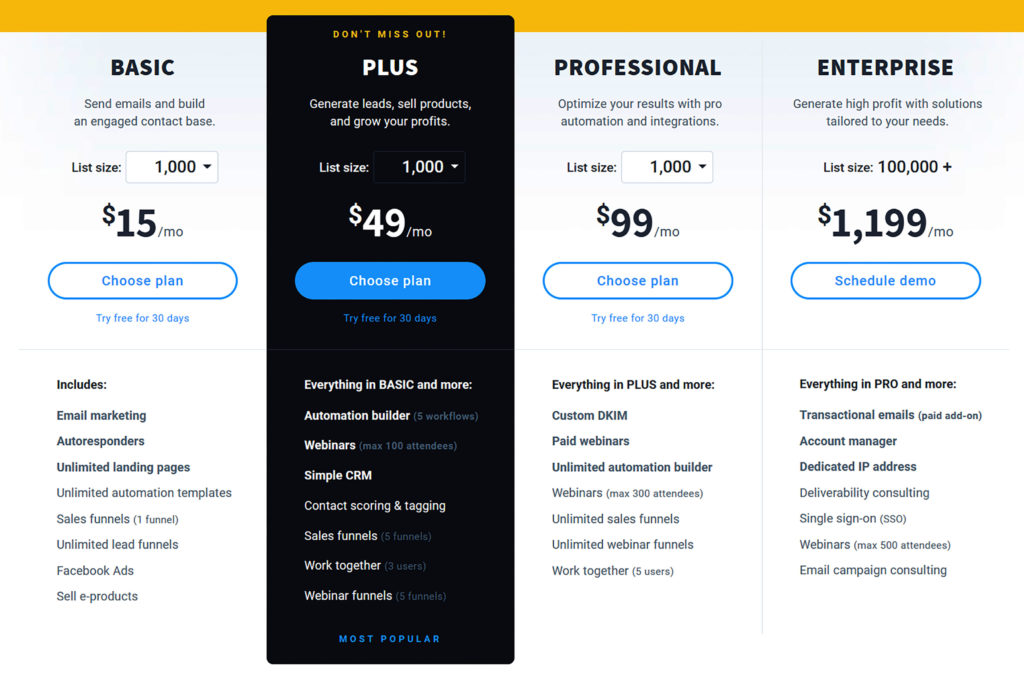 Integrations
GetResponse offers 135 integrations with other software.
PROS
The ability to completely customize optin forms (size/design and branding). The landing pages, which are simple to format and create in a short amount of time. They are also completely customizable and are great if you want to quickly set up an option without creating a whole website. Sending out weekly emails is quick and seamless with the ability to turn any email you have sent in the past into a template. Just change the content of each email and send it in a snap. GetResponse software has so many tools integrated into it – you can create an optin and send an automated email as well as filter your subscribers into my main email list. It's nice to have it all in one.
CONS
The only "con" is that the number of features can be overwhelming at times.
Learning to use GetResponse
GetResponse provides a significant number of training courses to customers on its website:
Comparison to other solutions:
If you have a mailing list containing between 9,000 and 10,000 records that you wish to send an unlimited number of emails per month to, you'll find that hosting it on the 'Basic' Getresponse plan costs $65 per month.
This works out against competitors as follows:
GetResponse would be $4 per month cheaper than Aweber
$29/mo

501-2,500

SUBSCRIBERS

$49/mo

2,501-5,000

SUBSCRIBERS

$69/mo

5,001-10,000

SUBSCRIBERS

$149/mo

10,001-25,000

SUBSCRIBERS
GetResponse would be $10 per month cheaper than Mailchimp:
PREMIUM $299/mo
STANDARD $14.99/mo
ESSENTIALS $9.99/mo
FREE
PLAN

Advanced features for pros who need more customization.

Standard

Better insights for growing businesses that want more customers.

Must-have features for email senders who want added support.

All the basics for businesses that are just getting started.

200,000+

100,000

50,000

up to 2,000
$24 per month cheaper than Campaign Monitor:
| | | | | |
| --- | --- | --- | --- | --- |
| $59/mo | $99/mo | $149/mo | $399/mo | $749/mo |
| up to 1,000 subscribers | up to 5,000 subscribers, unlimited emails | up to 10,000 subscribers, unlimited emails | up to 25,000 subscribers, unlimited emails | up to 50,000 subscribers, unlimited emails |
Summary
GetResponse is a full-featured product that offers many features, several that competitors do not offer and its pricing is better than some of its competitors.  You will need to learn how to use all its features but fortunately, training is offered.  You can take advantage of the 30-day trial to try it out.  Choosing GetResponse would not be a mistake in my opinion.
You can sign up to try GetResponse by clicking on the image below:
Comments
I love to receive comments and questions from my site visitors, you can leave yours below. – Shirley
NOTE:  This post contains affiliate links, which, if clicked on and a product purchased, I receive a small commission (with no increase in cost to you).