Wealthy Affiliate Training Program Review
---
Product:  Wealthy Affiliate Training Program
Website: https://earningmoneyinretirement.com/joinWealthyAffiliate
Cost:  $0.00 the for Starter Membership, $49/month for Premium, 6-Month plan is $39/month (Save $60)$359/paid annually is approx $25-30/month. Taking advantage of once yearly Black Friday Special of $299/year works out to be just under $25/month. (UPDATED 2019)
My Rating: 

Target Audience: Perfect for an absolute beginner or advanced online marketer who want to become experts at Affiliate Marketing and make a great passive online income.
Getting My Perfect Retirement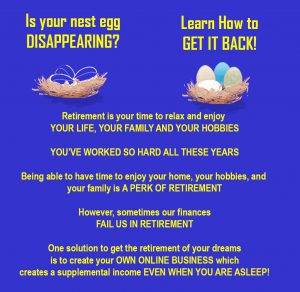 I'm retired and love being able to do what I want-when I want.  However, I knew I would need some extra income to support the lifestyle I dreamed of in retirement.
As I am a retired IT worker, I first thought of online work.  I'm also in a wheelchair which makes working from home very attractive and much easier for me.
When I started looking for ways to make money online, I did a lot of research because I was so afraid that I would be scammed.
I spent years filling out surveys and doing little tasks on Amazon Turk, however, the earnings were so small for the amount of time, that I knew I had not found my answer yet.
I looked into transcription tasks, which did pay much more.  I even purchased transcription software and the foot pedals, software, and earphone devices to use.
But after trying to transcribe some really terrible audio, I found I'm truly not good with funny accents and garbled speech.  So I decided that doing lots of transcription is not my answer either.
I Discovered Affiliate Marketing
I knew something of what affiliate marketing is and downloaded several free books to read about it and learn how to do it.  While I love to read, I found I needed to have more hands-on training in creating affiliate websites, picking affiliate programs to join and how to market the products I wanted to promote to sell.
So I began to look at various sites where I could learn all about affiliate marketing.  There were (and still are) so many websites offering to help make you rich with affiliate marketing.  But I'm pretty much a skeptic on these "GET RICH QUICK" promises and my research told me most of these were just SCAMS anyway.
My SOLUTION!
Then one day I ran across a website by a guy named Steve, who was promoting the Wealthy Affiliate Training Program (WA).  He seemed very straightforward about this being a program that offered wonderful training but did require lots of work and persistence to achieve success.  I read that WA offered a 7-day FREE TRIAL WEEK so I could check it out before expending any money at all.  I decided I had nothing to lose and signed up to see:
"Is Wealthy Affiliate a Scam?"
So, I signed up for the FREE STARTER MEMBERSHIP (I was not even asked for my cc) and logged into the WA community and training site and started looking around.  I checked out the training lessons and I found that the training offered was indeed very extensive and detailed, with both written and video instruction, live chat, and weekly webinars from a marketing expert.  It seemed like a wonderful way to learn about building websites and affiliate marketing.
The Training Provided would Show Me:
How to pick an area of interest (niche) I was very interested in and create a niche blog site using WordPress.
How to use WordPress and all its wonderful functions to create my first blog site in 30 seconds.  So cool! and I got two free hosted sites with my Free Starter Membership.
How to draw visitors to my blog site with SEO (search engine optimization) techniques
How to pick keywords and use them on my blog site and in my written content.
How to create written content that would bring visitors to my site.
How to pick affiliate programs to join and use their products and services to monetize my blog sites.
How to submit my site to search engines and how to use analysis and tracking tools such as Google Analytics and Webmaster tools.
I could go on and on about the training, but I'll just say it is very extensive (it can even be overwhelming at first when realizing how much detail is provided – but I was assured that taking it step by step at my own pace would be fine), and it is constantly being updated to remain "state-of-the-art".
The images below show outlines of the training in the first Certification Level:
Level 1 Training Outline image, copyright Wealthy Affiliate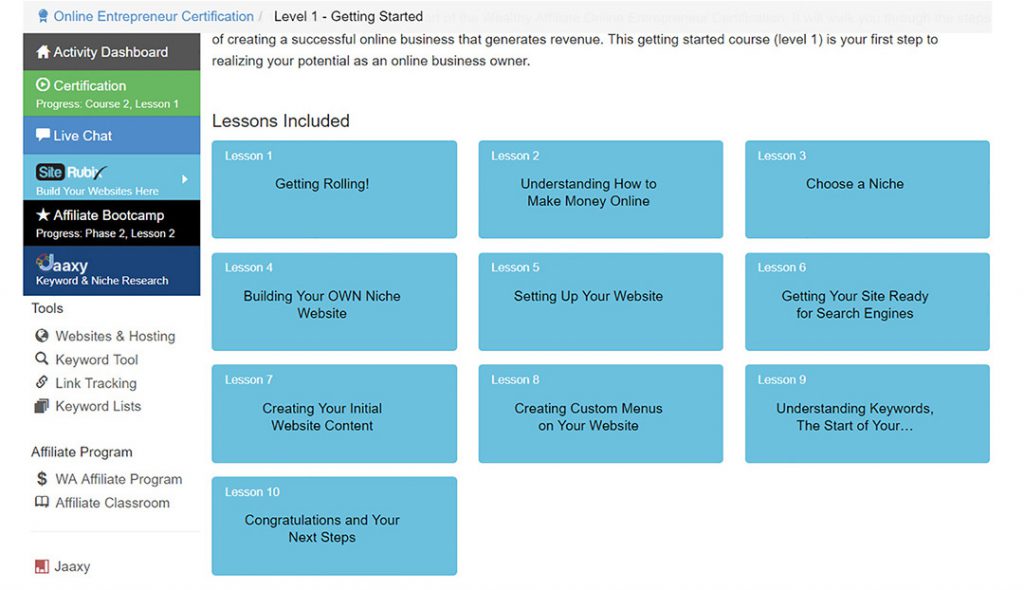 Level 2 Training Outline image, copyright Wealthy Affiliate
Level 3 Training Outline image, copyright Wealthy Affiliate
Level 4 Training Outline image, copyright Wealthy Affiliate
Level 5 Training Outline image, copyright Wealthy Affiliate
As you can see, the training is extensive and covers all aspects of being successful at affiliate marketing.

A Massive Wealthy Affiliate Community
And then there is the WA Community, which has over 1,800,000+ members, sharing and learning together.  I must admit I have never been involved with a group that is so helpful and less competitive.  I have made some very nice friends and also those I consider mentors within the WA community.  They are always there when you get stuck and have a question.
My questions are responded to in just minutes from my posting them.  And if the community can't help me, the excellent site support team always can provide me with answers and very quickly too.
I was so impressed that by the 3rd day of my trial membership, I decided to upgrade to PREMIUM Membership status.  That was in August of 2014 and I have never looked back or regretted that decision.
Wealthy Affiliate's Hosting Platform
WA actually provides much more than just training.  As part of my PREMIUM Membership at WA, you get 10 paid or SiteRubix sub-domains hosted at WA.  You would have to pay extra for these normally at regular hosting platforms like Bluehost or Godaddy.  So I save money when I don't have to pay for these hosting fees for my websites.
Make Money While You Learn
I'm finding that my membership and training allows me to make money not only through affiliate marketing but creating and maintaining websites for small businesses and individuals.  This is giving me multiple avenues to create revenue in my retirement.  And best of all – I am my own "Boss".  I can choose when I work and when I play. And even when I'm playing, my websites can be earning money for me.
Other real advantages of hosting at Wealth Affiliates include:
A highly optimized and simplified hosting platform
The ability to MOVE websites from one domain to another
The Ability to fire up FREE Websites on demand
Full Redundancy (100% backed-up to the minute)
The latest and greatest hosting technology (your websites are always hosted on the highest powered servers available)
Free SSL on all sites hosted
Full Domain and Website Caching and the server level
Automated recovery processes
Personal website monitoring and maintenance
Removal of "rogue" plugins and themes
Comment spam management and behavioral assessment (so spam is caught)
Access and integration with SiteDomains (a domain platform exclusive at WA)
Daily back-ups included
Website integrity updates that continually improve how your WordPress sites function, based on the latest version of WP
Access to SiteContent and over 1 MILLION+ high definition images (completely free to use)
Resilient Bruteforce and DDOS protection
24/7/365 SiteSupport
All this provides an awesome hosting value I've found nowhere else.
The cost of Wealthy Affiliate Membership
Trial Membership (7 days) is FREE
Premium Monthly is $49 per month ($1.62 per day)
Premium 6-Month discounted plan is $234 per 6 months (average of $39/month) instead of $294 for the year  – Save $60.  (ADDED IN 2019)
Premium Yearly Discounted plan is $459 per year (average of $38.25/month) instead of $588 – Save $129.  (Modified in 2020)
The Yearly price was changed in May of 2020 and this is the statement from co-owner Kyle:
The new Premium  Yearly Price is now $495 per year as indicated, but we are going to be introducing some additional new perks associated with going yearly. The Premium Yearly is going to include:
Free .com Domain. You get domain credits for a .com domain when you upgrade.
$50 in Community Credits. You can use these credits towards the SiteComments/SiteFeedback platforms at Wealthy Affiliate so you can get engagement on your website, and website audits.
$93 discount on paying month to month (Essentially buying 10 months, getting 2 months free)
My Video Bonus
Each year that you stay on as a Premium Yearly member you will get these perks when your membership recurs. This means that both domain and community credits will come with your yearly membership in an ongoing basis if you are at the $495 Premium Yearly price.
My (Shirley's) monthly costs for WA Premium Membership with all it provides is around $25/month, (after I have taken several offered discounts), about the cost of a meal out for my husband and myself.  I save so much just by taking advantage of the free hosting available through my membership for all my websites.  I actually make money by not having to pay to host elsewhere – lol!
There may be companies that are offering a similar host quality that is offered to Premium members of Wealthy Affiliate but I think you would be surprised as to how much a service like this really costs.
But This is Just the Quality of Hosting You Get Here.
With other hosting plans you do not get the quality of hosting provided at WA:
The Community and the Live Help
Access to Industry Experts
Personal Access to the Owners
World Class Training (1,000's of resources)
Keyword Research Tools
Weekly Live Video Classes
Unlimited Access to our Website Builder
One of the Most Lucrative Affiliate Programs in the World
Ambassadorship Program (Ability to Pay it Forward)
Incentive Programs
Business Productivity Tools (Rapid Writer, Link Tracking, KW Lists)
Access to ALL Future Updates
And this is all included in your membership. And this is EVERYTHING you need to create and grow a business. So when you put a "hosting package" alongside a business building and education platform like WA, there is simply no comparison.
With a Premium membership at WA, you can be assured that you have access to a business building platform that you can run a business off of, grow a business as a result of, and rest easy at night knowing that you are getting the absolute best service in the world which is constantly being upgraded to be state-of-the-art.
In Conclusion
I find that in researching and utilizing the Wealthy Affiliate Training Program myself for several years, that it is a true, quality training plus hosting option for all my learning, affiliate marketing and hosting needs.  Thus the 5-Star rating I have given it.  I'm convinced that one would not go wrong in becoming a Premium member of this Training Program.  NO, it is not a "get rich quick" program, nor does it claim to be.  But with work and persistence, you can definitely make money online using what you learn with this Program.
The Wealthy Affiliate University is definitely NOT A SCAM
I challenge you to sign up for the FREE starter week (click on the  "this little square can change your life today box" and check out this wonderful training platform.  Set up your account and I will be contacting you very shortly after it is set up to help you get started.  You will also be contacted by one of the Wealthy Affiliate owners to welcome you to the training.
YOU HAVE NOTHING TO LOSE AND
EVERYTHING TO GAIN BY SIGNING UP FOR THE FREE TRIAL!
More about Wealthy Affiliate
Wealthy Affiliates, What is it? 
WA (Wealthy Affiliate) Testimonials
Comments
Thanks for looking at my site and coming to this page.  Here is a link to my profile on Wealthy Affiliate, drop me a comment sometimes and I would also love for you to leave any questions or comments below.  I enjoy talking about my reviews and especially about my experience with the Wealthy Affiliate Platform and how much I am learning there. Feel free to share this page with your friends who might be interested.  – Shirley