Make Money Writing?
---
Maybe you have always been one to love to write – ever since you were a child.  Maybe you even considered writing your own novel or poems.  It is likely that you have a gift you are not using to its fullest.  Online writing can be both enjoyable and profitable. Writers have the ability for variable and versatile expression to relate their lively, often painful memories for others.  Someone, maybe you, want to write to be read by more than polite, obligated and curious family or fellow students.
There is a great way to share your writings with others and you can even make money doing it.  Online writing through your own blog site is something you should try.   Blogging can give you an outlet for your creativity, a use for your grammar and expression skills and also a decent passive income if you want that also.
Creating your own online blog and filling it with your own posts or articles is a good way to let your natural writing talent express itself.  You can write about something you have a passion for, over and over.  Maybe you enjoy fishing, golfing, hiking, creating art, sewing, cooking, training pets, reading… etc.  You can just pick a passion of yours and become a blogger within that niche.
To be a blogger you need to do the following:
1. Pick a niche or subject you love and can write about over and over.  A niche that allows you to create your own stories, product reviews, advice, how-tos, etc.  Just so you are very interested, even passionate about the topic.
2.  Building a website to contain your writings or article/posts.  Creating a WordPress blog site can be simple and easy to learn.
3.  Learn how to monetize the articles and posts you write through affiliate links.  Affiliate marketing is the #one way to monetize a subject-oriented blog site.  You can even learn how to do this online for free.
4.  Learn how to use SEO (search engine optimization with keywords included in your written posts and reviews).
5.  Write 2-3 posts or articles each week of about $1000-2000 words that are "keyword rich".
Those five things are pretty much it, pick a subject, create a website, monetize it, use SEO, write regularly.  No, it is not so easy, you do have to work and create your content – over and over.  But doing these 5 things you can free your writing talent and use it to create a passive income.  You can earn 24/7 even when you are not writing.  You can choose to write as often and as much as you want; you can write wherever you want – inside or outside, at home or on vacation.
How to Get Started?
I'm going to share a FREE way to get started.  Its the same way I got started, learning how to choose a niche, create a blog site using WordPress (the number one tool used to create most blogs online), choosing and using keywords, submitting your blog to search engines, and using affiliate marketing to monetize your blog site.
Back in the fall of 2014, I found an awesome training site online to learn all about blogs and affiliate marketing.  I choose to sign up for the offer of a FREE week to try it out.  I logged in, did the FREE 10 starter lessons, created my first affiliate blog site and engaged with the huge community of fellow students and found I loved it.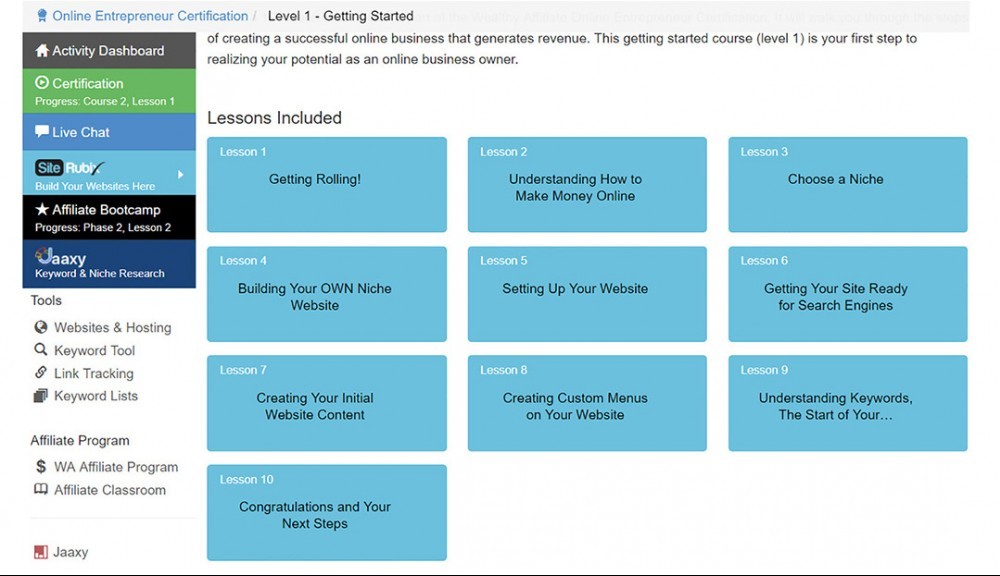 I learned so much, created a beautiful blog site and met hundreds of men and women who were like myself and wanted to use my skills and passions online to create a passive income for myself.  I enjoyed it so much that I decided to become a permanent "Premium Member" and that was over 4 years ago.  I now pay a fee of $25/month to continue to learn new things every day, have created over 10 personal blog sites and monetized them and have some commissions coming in monthly as well as get paid to create small business websites for others.  I get so much benefit from my Premium Membership.  You can find out from the chart below:
Make Money Writing?
You notice the monthly fee starts out at $49/month.  But you can lower that as I did by choosing to pay by the year for only $359 (which averages out to be only $30/month).  Then I lowered it, even more, when the owners offered a Black Friday Special of $299/paid annually.  (which averages out to be only $25/month).  Every year since I've joined, this Black Friday Special has been offered.
Now I enjoy all the benefits of Premium Wealthy Affiliate membership.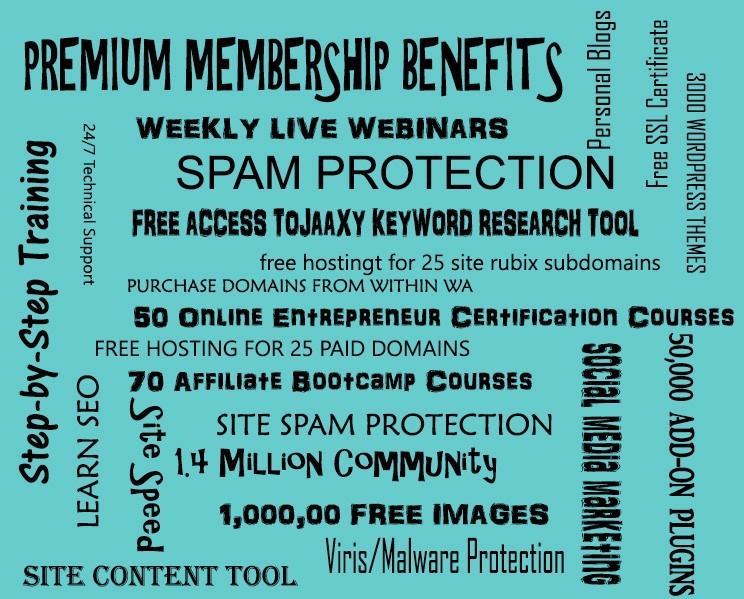 My monthly fees give me so much, as you can see in the image above.
50 online training courses covering all and more than I need to know and use and 70 Bootcamp courses
Step by step training
Learning all about SEO
Learning all about social marketing
Weekly live seminars
1,000,000 free images to use legally in my articles and posts
free hosting for 25 paid domains and 25 more siterubix subdomains

Free Site Speed tool
Free Site Spam protection
Free virus/malware protection
Free SSL certificates for my sites

Free WordPress tool and training with 50,000 free add-on plugins
Engagement within a 1.4 million-member community that is all about blogging and affiliate marketing
A wonderful Site Content creation tool
Free access to Jaaxy Lite Keyword Research Tool
24/7 awesome site support team
Yes, all that for only a small monthly fee that costs about what a dinner out for my husband and I would pay.
If you would like to try this out free for a week (you will not be asked for your credit card information), you can sign up below.  Then if you choose (like I did) to become a Premium Member, I will personally mentor you as you go through the training and implementation to create your own blog site, monetize it, grow traffic and start earning passive income (with hard work, you can begin earning in your first 6-12 months).
All you need do is sign up for your free Starter Membership below and begin your journey as an online blogger.
Comment
I love to get comments and questions from my site visitors.  Please leave yours below. – shirley
NOTE:  This post contains affiliate links, which, if clicked on and a product purchased, I receive a small commission with no cost to you.