How to Make Money While Your Spouse Watches TV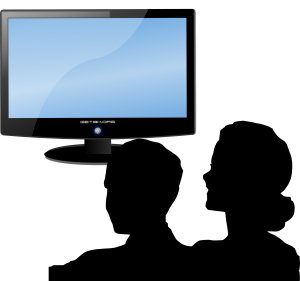 ---
Sometimes I find myself in the living room in my recliner and my husband in his and I really wish I could be working on my Affiliate Marketing business. But when he asks if I want to watch a movie with him, its hard to say "No".  I know I need to be spending time with my spouse. He and I are on the opposite end of what we enjoy watching.  He's into war movies, documentaries, history, old black and white movies and corny comedies, etc.  I like to watch drama, love stories, science fiction, crime thrillers and fantasy movies.  I can handle a few minutes of the other type movies occasionally (comedies especially), but usually I'm totally bored.  Yes, I do watch baseball with him-sometimes the entire game!
But I'm secretly thinking about my business and what blog post I need to be researching or writing or the training I could be doing. I started thinking and figuring out "how to make money from your recliner".  So I've developed my own way to make money when relaxing in my recliner spending time with my spouse.
What do I do for my business while in my recliner?
I have my iPhone with me.  It is the 7plus with the larger screen, so I can see the screen well enough to make money when relaxing.  It is hard to type because it takes too much time on that tiny screen (I'm saving for a notebook to use).  But here are some things I CAN do in the recliner:
I read lots of my Kindle ebooks with it and I can read some off my book list I keep while resting in my recliner (I'm going through a list of self-help, success, and positive thinking books right now). aka "Think and Grow Rich", "The Power of Positive Thinking", "The Law of Attraction" and more like that.  I also read books about my niche subject to learn more about my niche and become more of an authority on that subject.
I can do online surveys for points and credit toward gift cards.

I mostly do surveys on Tellwut.com and Swagbucks.com.  500 Swag bucks earn me a $5 Amazon card. 4000 points on Tellwut will earn me a $10 Amazon gift card.
Another thing is I can use my desktop in the office and let one of the Swagbucks "watch video cycles" be running on the desktop earning me points while I'm in the living room.

I can research information sites and topics for my next blog post.  I use the Notes app on my iPhone to jog down ideas and thoughts and URLs.
I can do some Jaaxy keyword searching and save my keywords to notes or within Jaaxy on Wealthy Affiliate University.
Just recently I ordered some Bluetooth earbuds for my iPhone.  I'm really loving that I can now listen to Jay's video training or other recorded training from WA while I relax in my recliner. They are proving well worth the money I spent (and I used one of my gift cards to help pay for them – lol!)
I can read WA email while I relax too.  I have my mail setup to filter all emails from wealthy affiliates and move them to one folder.  When I have time, I go through that folder catching up on reading all those emails.  I keep up with the community and all my followers and followed members doing that.
I can proofread some of my posts to find typos and grammar errors and fix them.
I can go into CHAT and see if I can help anyone – although its hard if I need to type a lot or copy and paste a helpful thread.  It will be much easier when I get a notebook and mouse.
I can also check my websites for comments that I need to acknowledge and reply to.
I can take the time to be active on social media (Facebook, Twitter, Google Plus and Linked In).
See, there are at least those 10 things I can do while sharing the living room with him while he watches TV.  I can make him happy that I'm spending time sorta doing something with him and I can make some progress on my business also.
Do I feel bad doing this?  No, I don't; we don't talk a lot but that's because HE is the one who doesn't want to talk while his attention is on his movie or a ball game or he's playing sudoku on his phone.  So, I'm just doing what he wants – sitting there next to him and not sitting in front of my desktop for hours, which he hates.  I do take a few minutes every now and then to watch some of the movie or game show or ballgame with him – I've actually grown to enjoy watching the St. Louis Cardinals (his favorite MLB team).
Here are the earbuds I just purchased for myself and I'm really liking them:
Anker SoundBuds Slim Wireless Headphones, Bluetooth 4.1 Lightweight Stereo Earbuds with Magnetic Connection, NANO Coating Sweatproof Sports Headset with Metallic Housing & Built-in Mic
Here's my list of books to read so far:
| | | | | |
| --- | --- | --- | --- | --- |
| | | | | |
|   | How Successful People Grow: 15 Ways to Get Ahead in Life | The Success Principles(TM) – 10th Anniversary Edition: How to Get from Where You Are to Where You Want to Be | The 12 Week Year: Get More Done in 12 Weeks than Others Do in 12 Months | Napoleon Hill's Greatest Speeches: An Official Publication of The Napoleon Hill Foundation |
| | | |
| --- | --- | --- |
| | | |
| Think and Grow Rich: The Original, an Official Publication of The Napoleon Hill Foundation | The Law of Attraction: The Basics of the Teachings of Abraham | Ask and It Is Given: Learning to Manifest Your Desires |
Comments
I love to get comments and answer your questions.  Please leave yours below.  Also, if you have enjoyed reading this article and think others might also, please share with your friends and on your social media.  Thank you for visiting my website – Shirley
NOTE:  This post includes affiliate links, which, if clicked on and a product purchased, I get a small commission (with no increase in cost to you).