Why You Need a Website
---
Shoppers of today do it a lot different than when I was growing up.  We used to love going "window shopping".  Walking through the Mall or strip malls, looking at the lighted window displays.  We would enter a store and check out how the clothing looked on a manikin (sometimes I would bump into one and say "excuse me" and then realize it wasn't a real person and feel like an idiot)  Maybe you remember those "live mannikins" which were real humans, being so still, they looked like mannikins.
The Sears or J.C. Penney catalogs were "must have"s for Christmas shopping. As kids, we marked up the pages circling the toys we wanted – bunches of them.  As a teen, I remember going through L.L. Bean's great catalog to see what was in style.
Nowadays shoppers don't need thick heavy catalogs to shop.  They can go online to their favorite store and see lots of images and information about products they are interested in.  They can read a number of reviews about those products and find out what may be problems or great things about the product (sizes run large, sizes run small, this toy is fragile and doesn't last long, this product is excellent and is highly recommended… and so forth).
More and more, the customer will research online before they purchase.  Sometimes they do online research and purchase at a brick and mortar shop afterward.  However, it is becoming more likely that customers will research online and then purchase online too.
The benefits of online purchasing include:
There is a wider variety of products to choose from online.
It is easier to compare prices from different vendors.
Purchases can be made with debit or credit cards or online payment methods like through Paypal.
Products can be researched and reviews of the products can be read and compared easily
You can shop any day, any time of the day.
Products will be delivered right to your doorstep (even refrigerated food products) without taking the time or using your gas to do traditional shopping.
You can return most products if they don't fit or are faulty.
Small businesses without an online presence will lose out on a huge potential customer market.  If you are a small business owner, then you need a website too.  Even if you have a  business which doesn't sell your products online, you need to have a web presence just so potential customers can find you and learn about the services you offer.
These days, whenever I plan a trip or a vacation or even here in Bella Vista, where I've only lived a couple of years, I have to look up business information frequently.  Just this month, we have needed an electrician, someone to "fix our broken deck awning", a furniture repair service, and I've ordered food online from Schwans.  Yes, I used my computer and the internet to look up all these services and find out who to call.  When we first moved to Bella Vista, I looked up places to dine out all the time.  I looked up what classes were offered and the times at all the recreational centers here in Bella Vista.  I found out about the Paddle Club and when the "floats" were planned; I looked up painting classes and get-togethers for my art interests.  Mel and I learned about Crystal Bridges and the current exhibits and how to become a member online.  Mel found the Hill N Dale hiking club which he loves and participates in.
My first choice to search out businesses, whether for repair services, pest control or dining out, is to go online and search for what is available in my area. I search online for all kinds of businesses and services.  I found several of my new doctors online, our vet and dog groomer, my hair salon, the camera club I belong to, many local restaurants, and so much more.
Don't Lose Business
With the "connected" population of today, a small business web presence is definitely needed or you will be losing business.  Small businesses do need a website and a facebook page also.  But they need professional looking ones.  There are a couple of options for these small businesses:
Build their website and facebook pages themselves, using site builders and purchased templates.
Hire someone (like myself) to build a site for them.
Building your own website is less expensive but may be very frustrating if you are not knowledgeable and have the skills necessary and really don't want to learn them.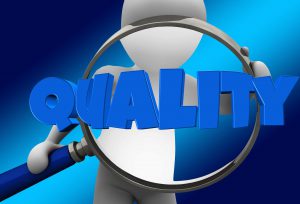 You can hire someone to do this for you.  Most cities have locals with the knowledge and skill to build a site for you.  You can look online for someone, check out local colleges or computer repair shops.  If you find someone then get a quote and check out pricing elsewhere too.  You must be able to communicate easily with that person or team (either in person, by phone, email or text).
Make sure you have agreed on what you want on your website.  The website designer should be able to offer suggestions and examples.
Costs to custom build a website can vary from 100's to thousands, depending on what you want. A simple website of 1-3 pages can be hired built for around $200. (Home page, product/service page, contact us page).
Be prepared to provide text for the pages, product images you want on the site and work with the web builder to get the look and feel you are happy with.
Depending on how your site is created (software wise), you may be able to learn to update the information yourself.  An example is a site that is built with WordPress can be easy to learn to update text and images.
However, you can also work with the developer and pay a minimum for site maintenance and occasional changes to the content throughout the year.
Additional Cost
Remember that purchase and leasing the domain name is a separate cost, as well as hosting your website.  Domain names registration is usually around $12-15 annually.
Hosting fees can be paid monthly or annually and can range from $3 to several hundred, depending on what features you are interested in. Be sure and choose hosts that have a good reputation.  You can read a previous post of mine about good hosting sites.
Maintenance fees (to change text or images for custom websites vary and you can negotiate for a better price).
Hosting
Some well know hosting sites are:
HostGater
You can read my reviews of these hosting sites on a previous post here.
Conclusion
A small business today needs to have a web presence of some sort, if only to allow the rest of the world to know their business exists, what it is about, what product or services it offers, how to find it and how to contact it.  A small business without a web presence is losing money to competition which does have a web presence.
Comments
I love to get comments and answer your questions.  Please leave yours below.  Also, if you have enjoyed reading this article and think others might also, please share with your friends and on your social media.  Thank you for visiting my website – Shirley
NOTE:  This post includes affiliate links, which, if clicked on and a product purchased, I get a small commission (with no increase in cost to you).