I Should Know, Because I Live There
My name is Shirley Dawson and I live with my husband and my 130 pound Giant Schnauzer in Bella Vista, Arkansas.  Bella Vista is located in the Ozark mountains of northwest Arkansas and has been one of the top retirement communites in the country for a while.  The Motovo Real Estate blog has also named Bella Vista number 4 in Top 10 Best Places in Arkansas.
An Overview of Bella Vista
Bella Vista is known for its low crime rate, temperate weather, low cost of living and scenic trails.  In fact, the name "Bella Vista" is Spanish for "Beautiful View".
The population of Bella Vista is around 28,000 and fluates somewhat because of seasonal visitors who vacation here in the summer and fall, enjoying its 7 golf courses, 3 recreation centers, 2 outdoor and 1 indoor pools, and 7 lakes, as well as the gorgeous summer and fall colors and a variety of wildlife.  It is the northern most of six large cities along the I-49 corridor and is located near the Arkansas/Missouri state line.  These cities boast many shopping, healthcare and recreation facilities and schools (including the University of Arkansas).  Bella Vista touts over 100 clubs that residents can be part of, miles and miles of trails for walking and biking.  In fact, the NW Arkansas trail system is extensive and highly used.  Check out this trail map and this information on the more recent "Back 40" trail system.
Bella Vista boasts several waterfalls that enhance walking the trails and are the favorite subjects of local artists and photographers.  Here's a photo by local photographer Dana Johnson of the Lake Norwood Falls which is walking distance from our home near Lake Norwood.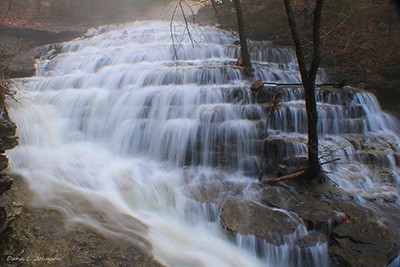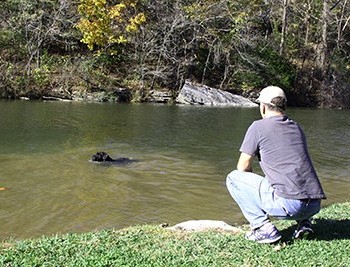 Bella Vista Statistics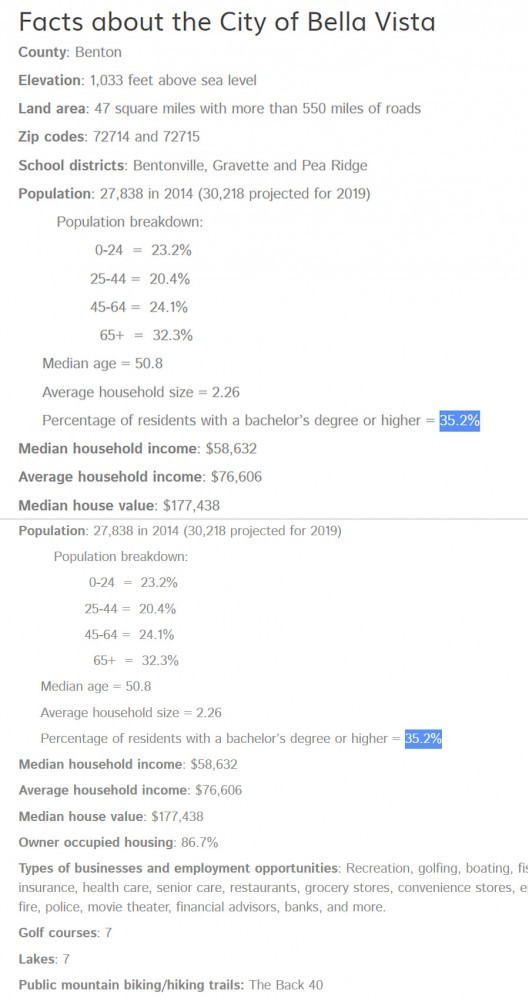 Why do I live in Bella Vista?
You might ask why my husband and I decided to move here.  Well, about 15 years ago we purchased a timeshare here and began to visit Bella Vista twice a year – once in the spring and again in the fall.  We did this for over 10 years and during those visits, we fell in love with the beautiful hills, lakes, and trails.  In 2013 we decided to buy our future retirement home and selected a one level townhome located on the cliffs overlooking Hwy 71 (known locally as "Bella Vista Way") and a beautiful golf course.  We used our new home as a weekend vacation home for 2 years, until my husband was ready to retire from his job as a Financial Advisor.  We sold ourlongtimee home in White Hall, Arkansas and moved to the hills in July of 2016.  The last couple of years living here has been wonderful and we have began making friends, chose a church home, use the recreation centers for swimming and exercise classes (Mel participates in several) and love sitting on our deck watching the many birds at our feeders.  Last spring we even had Blue Birds nesting in our bluee bird house.
We also took up kayaking and joined the Paddle club and Mel has joined the "Hill n Dale" hiking club and the "Pickleball" group.  I tend to stay home more since I'm in a wheelchair, but do enjoy the Bella Vista Library, the paddle club, the photography club, the local dining spots, especially the new "Lakepoint Restaurant" and several regular church activities.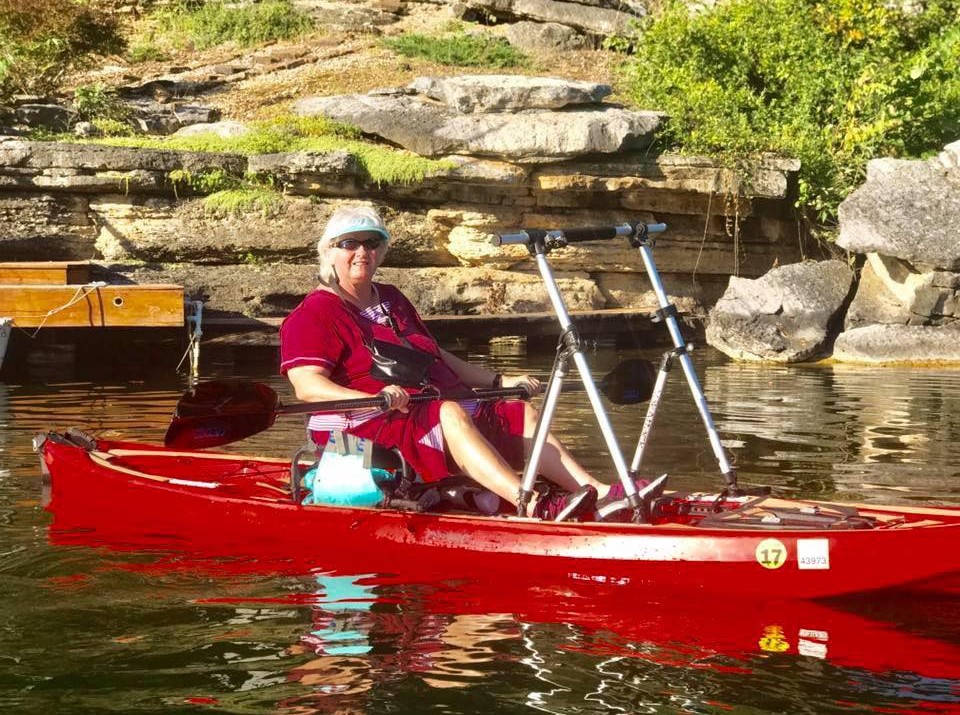 Since I love art, I really enjoy visiting the beautiful Crystal Bridges Museum of American Art a few miles away, and the many local artists and galleries.  Bella Vista is the home of alovely glass chapel (Mildred Cooper Chapel) which I find so relaxing to sit in and contemplate and pray.
Affording this Lifestyle
The population of Bella Vista, as you can see in the stats image above is made up of 32% 65 years or older and 24% 45-64 years old.  Many retirees live here from all over the U.S.  The average household income is over $76k, greater than the US average of $59,039 in 2016.
I was reading that the Federal Reserve Bank in St. Louis shows few metropolitan areas can match Northwest Arkansas' remarkable combination of high income and low cost of living.  Those researchers used the 2015 Bureau of Economic Analysis data and found that the Fayetteville-Springdale-Rogers Metropolitan Statistical Area ranked No. 11 nationally in per capita personal income if the region's low cost of living is taken into account. Bella Vista is located touching Rogers on the north.
Much of this is due to the many employees at Walmart headquarters next to us in Bentonville, the J.B. Hunt headquarters near us in Lowell, and the large presence of Tyson Foods.  Also, NW Arkansas is the fastest growing area of our State.
Retirees that Work Part Time
Mel and I have found that many of the retirees we meet decide to continue working at something during retirement, either to bring in extra funds or to give them something to do with their time.  They like to take part-time jobs at the local stores, the recreation centers, the colleges, and other places or volunteer at the library, Crystal Bridges, and other local places.  Some of our friends need to work to supplement their retirement income and have found jobs where they work 2-3 days each week.  I see many older people working in the recreational centers, various stores, restaurants and places of business.  A couple of my friends make cool items and sell them on Etsy and Ebay.  There are also many talented artists who create beautiful pieces of art they sell at the local galleries, festivals and shows.
Luckily Mel and I do not HAVE to work any now to maintain our lifestyle, but I have decided to use my IT background and computer skills to bring in some extra each month.  My intent is to be able to donate more to our missionary daughter and to set aside some funds for our 5 grandkids.  I've tried several different ways to make money online, but was very happy to settle on affiliate marketing.  I signed up for a great online training and hosting platform and am now making some extra money with my efforts blogging and creating websites for small businesses and artists.  (You can read about the training platform where I have learned so much about Affiliate Marketing in my detaiiled Product Review of Wealthy Affiliates.
Comments
I love to get comments and answer your questions.  Please leave yours below.  Also, if you have enjoyed reading this article and think others might also, please share with your friends and on your social media.  Thank you for visiting my website – Shirley
NOTE:  This post includes affiliate links, which, if clicked on and a product purchased, I get a small commission (with no increase in cost to you).